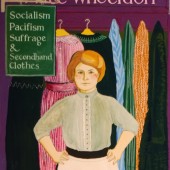 On 10 March 1917 Alice Wheeldon – a fifty-something seller of second-hand clothes, living in Derby – was sentenced to 10 years imprisonment for allegedly conspiring to murder the Prime Minister, Lloyd George.[3]
At the trial she had been accused of scheming to have a 'a dart tipped with [the Central American arrow poison] curare [fired] at the prime minister whilst he played golf at Walton Heath'. [4]
In less than a year she would be released from prison, never to return. [5]
A 'shadowy informal network of resistance'
A feminist and a socialist (before the war she was a member of both the WSPU and the ILP), Alice Wheeldon made her living selling second-hand clothes from the front room of her house in Pear Tree Road. [6] During the war she became part of what Sheila Rowbotham has called a 'shadowy informal network of resistance' that sheltered men who had gone on the run, rather than be imprisoned for refusing to join the war. [7]
Her daughters Hettie and Winnie were also active politically (Hettie was the secretary of the Derby NCF), and her son William was a conscientious objector. [8]
Spies, lies & agents provocateurs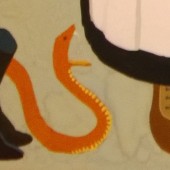 On 27 December 1916 a man calling himself Alex Gordon had arrived on Alice's doorstep, claiming to be a CO on the run from the authorities. [9] She sheltered him for the night and two days later he introduced her to a second man, 'Comrade Bert', who also claimed to be a fugitive from the army. [10]
Unbenownst to Alice the pair were actually agents for PMS2 – the intelligence unit of the Ministry of Munitions – in which capacity they had been travelling round the country, encouraging socialists to engage in acts of sabotage and political violence. [11]
Originally formed in Feb 1916 under the name Ministry of Munitions Labour Intelligence Division (MMLI), PMS2's stated purpose was to '[protect] munitions factories from espionage and sabotage, and to make enquiries with respect to aliens [ie. foreign nationals] coming into munitions work'. [12] However in May 1916, in the wake of labour unrest on Clydeside, its work was expanded to include spying on the labour movement. [13]
Poison, court & prison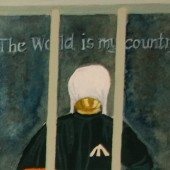 Within a few days of their first meeting 'Gordon' – actually William Rickard, a mentally unstable man with a criminal background – had tricked Alice into asking her daughter Winnie (who lived in Southampton) to post her some poison, the latter obtained from Winnie's husband Alfred Mason, a qualified pharmacist who was then a lecturer at Hartley University, Southampton. [14] The poison, Rickard claimed, was to be used to poison guard dogs at a prison camp for COs.
On 30 January 1917, Alice, Hettie, Winnie and Alfred were all arrested and the poison (which had been intercepted en route) cited as evidence of the alleged murder plot. [15]
Though the prosecution refused to call Rickard as a witness, the judge allowed a telegram from him to be read out during the trial. [16] All but Hettie (who had wisely decided to have nothing to do with Rickard) were found guilty, in a trial that focussed as much on who the defendants were (atheists, pacifists, socialists) and what they believed, as on the alleged murder plot. [17] The jury deliberated for only ½ an hour before bringing back its verdicts. [18]
In prison Alice began a series of hunger strikes, while on the outside mounting left-wing agitation over the case led to the closure of PMS2, whose functions were taken over by MI5. [19] By December 1917 Alice was close to death, and – frightened that she would die in prison and become a martyr – the authorities authorised her release on license. [20]
'Systematic surveillance of the working class'
According to Nicholas Hiley, 'the available evidence demonstrates strongly that the techniques used by PMS2 had full official approval', and the unit's closure, in April 1917, 'came not because the civilian officials of the Ministry held its techniques to be reprehensible, but because they sensed that its involvement in the Derby prosecution would attract severe criticism.' [21]
However, the end of PMS2 didn't mean the end of spying on the labour movement – quite the reverse. Indeed, in April 1917, 'at a meeting attended by representatives of the [Home Office], [War Office], Ministry of Munitions, Ministry of Labour, Admiralty Shipyard Labour Department and National Service Department, the decision was made to institute 'systematic surveillance of the working class". [22]
'A prophet … of the here and now'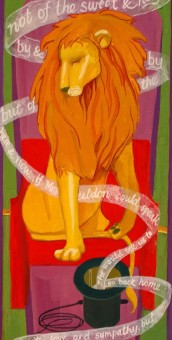 Ostracised by many of her former neighbours, Alice died in February 1919, a victim of the 'Spanish' flu pandemic.
At the funeral William Wheeldon placed a red flag on her coffin as it was lowered into the ground. Winnie and Alfred (who had received sentences of 7 and 5 years respectively) had been released the previous month, but were both too ill to attend.
John S. Clarke – still on the run from the authorities as a war-resister – gave the funeral oration:
'Mrs Wheeldon was a socialist. She was a prophet, not of the sweet and holy by and by but of the here and now … If Mrs Wheeldon could speak, she would tell us to go back home not with love and sympathy, but with intense hatred against what fills the world with warfare, poverty or crime, and all such as that. She would tell us to go away to help bear the burden she has had to lay down, to fight more fearlessly than before, so as to obtain that glorious time when peace and joyousness shall fill all life.' [23]
Son of a circus family with a Gypsy background, Clarke was variously a lion-tamer, gun-runner, MP, magistrate, sailor, poet, explorer, revolutionary, secretary, zoologist, editor, auto-didact and lecturer [24]. Alice Wheeldon was probably the person who helped him to find refuge on a farm at Arleston, near Derby, from where he edited the Socialist Labour Party's newspaper The Socialist during the remainder of the war. [25] At the time of the funeral he was still on the run.
Hettie Wheeldon died in childbirth the following year, and William Wheeldon emigrated to the Soviet Union where he was murdered by Stalin's secret police in the 1930s. [26] However, Winnie Wheeldon's grandaughters are currently fighting a vigorous campaign to clear her name. [27]
ENDNOTES
[1] Nicola Rippon, The Plot to Kill Lloyd George: The Story of Alice Wheeldon and the Peartree Conspiracy, Wharncliffe Books, 2009, p. 123.
[2] Letter from Hettie Wheeldon to 'Mrs Paul', dated 17 February 1917, in HO/144 13338, Public Record Office.
[3] Nicholas Hiley, 'Internal Security in Wartime: The Rise and Fall of PMS2, 1915 – 1917', Intelligence and National Security, 1986, vol. 1, issue 3, p. 408. Alice Wheeldon was born in 1866.
[4] John Jackson, 'Losing the Plot: Lloyd George, F.E. Smith and the trial of Alice Wheeldon', History Today, May 2007, p. 45. The latter source should be consulted with some care, as it contains some significant mistakes eg. the claim that Sylvia Pankhurst 'was permitted to make an unsworn statement denying the involvement of suffragettes in a previous alleged plot to kill Lloyd George' (p. 47).  In fact it was the pro-war Emmeline Pankhurst who made this denial, not her anti-war daughter Sylvia (see Nicola Rippon, The Plot to Kill Lloyd George: The Story of Alice Wheeldon and the Peartree Conspiracy, Wharncliffe Books, 2009).
[5] Adam Hochschild, To End All Wars: How the First World War Divided Britain, MacMillan, 2011, p. 313. Note that in her otherwise excellent work Friends of Alice Wheeldon (Pluto Press, 1986) Sheila Rowbotham errs when she writes that 'Alice Wheeldon served nearly two years' (p. 81). This error presumably has its source in Raymond Challinor's The Origins of British Bolshevism (Rowman & Littlefield, 1977, Chapter 6), who makes the same error and was apparently the source of Rowbotham's interest in the case (Rowbotham, op. cit., p. 111).
[6] Sheila Rowbotham, Friends of Alice Wheeldon, Pluto Press, 1986, pp. 1, 123.
[7] Rowbotham, op. cit., p. 116. During the war Alice's friend and fellow suffragist, Mrs Robinson, who had cut her hair short and ran a health food shop, used her motorbike and side car to smuggle COs around the country (Sheila Rowbotham, 'Alice Wheeldon Revisited', p. 198 in Mary Davis (ed), Class and gender in British labour history : renewing the debate (or starting it?) , Merlin, 2011).
[8] Jackson, op. cit., p. 44; Sheila Rowbotham, Friends of Alice Wheeldon, Pluto Press, 1986, pp. 36 – 37.
[9] Ibid., p. 51.
[10] Ibid.
[11] In Salford Booth and Rickard had suggested to British Socialist Party (BSP) members that they should 'introduce bars of soap into engine boilers, salt into motor petrol tanks and bars of iron into machinery', spoke boldly of blowing up the House of Commons and urged one man to 'find the money to find the bombs to play hell'. At the Derby Clarion Club, Rickard urged a man from the Rolls Royce factory to 'put water in the petrol of the test-bed engines', suggested that workmen encourage women at the National Shell Factory to 'place steel filings in the delicate parts of the machinery and dynamite cartridges in the factory', and spoke 'vaguely of plans to assasinate prominent politicians'. In January 1917 at the local socialist club in Coventry, Booth and Rickard suggested 'the Government should be physically wiped out and blown up … and that capitalists should be kept down by poison and bombs'. (Hiley, op. cit., pp. 405 – 407).
[12] Ibid., p. 400.
[13] Ibid., pp. 400, 402 – 403.
[14] Rowbotham, op. cit., pp. 51, 53-54; Trial Transcript, 2nd Trial, Friday 9 March, 1917, p. 280 (NB The trial was restarted more than half way  through because of a sick juror – see Rippon, op. cit., p.89). Alfred Mason had become an apprentice at age 16 years, qualified as a pharmacist and become a lecturer, and had sought a scholarship to study medicine. Thanks to Chloe Mason for the latter reference and additional information.
[15] Rowbotham, op. cit., p. 51 – 52
[16] Rippon, op. cit., p.64. After the trial Rickard was shipped off to South Africa where he 'performed a professional mesmerism act under the rather dramatic name 'Vivid – the Magnetic Man", before returning to England. (Hiley, op. cit., p. 408; Rippon, op. cit., p. 154; Raymond Challinor, John S. Clarke: Parliamentarian, Poet, Lion-Tamer,Pluto Press, 1977, p. 45).
[17] The Attorney-General, F.E. Smith, led the prosecution in person. 'By deeply prejudicial remarks, likely to be reported in the press, he painted a picture of bad reputation and guilt by association with what a jury would not like. In the case of the Wheeldons, who represented everything that most in the middle classes, and many in the working classes, would find disturbing, especially outspoken socialism, this was not difficult' (Jackson, op. cit., p.45). The Wheeldons' case was not helped by the fact that their defence lawyer, Saiyid Riza, failed to highlight key evidence that supported their case, namely a reference to 'the bloke who owns it' in one of the intercepted communications – which clearly indicated that the poison was intended for a dog rather than a human being (Rippon, op. cit., p.77).
[18] Jackson, op. cit., p.46. Winnie Mason was sentenced to 5 years, Alfred Mason to 7 years. Hettie Wheeldon was acquitted.
[19] Hiley, op. cit., p. 408 – 410.
[20] 'The prime minister's private secretary called the Home Office, an official there recorded, to say that Lloyd George "thought she should on no account be allowed to die in prison." … Her early release was again proof of the care the government took to avoid creating martyrs." (Hochschild, op. cit., p. 313). According to John Jackson, 'Documents at the National Archive suggest that the intention may have been to take Alice back into prison – as soon as she was strong enough – under the 'Cat and Mouse Act' (Prisoners Temporary Discharge for Health Act) devised in 1913 (in addition to forcible feeding) to counter the tactic of hunger strike used by imprisoned suffragettes. The order signed eventually by a Home Secretary uncertain of his instructions did not admit the 1913 procedure.' (Jackson, op. cit., p. 46).
[21] Hiley, op. cit., pp. 410 – 411.
[22] Brock Millman, Managing Dissent in First World War Britain, Frank Cass, 2000, p. 179.
[23] Rowbotham, op. cit., pp. 83 – 84; Hochschild, op. cit., p. 351.
[24] Ray Challinor's biography (Challinor, op. cit.) remains the definitive work. Highly recommended.
[25] Challinor, op. cit., pp. 37, 43.
[26] Michael Durham, 'Death of an English socialist', Independent, 13 September 1992, http://www.independent.co.uk/news/uk/death-of-an-english-socialist-moscow-has-helped-solve-the-mystery-of-william-wheeldon-who-fled-to-the-soviet-union-in-1921-to-escape-persecution-reports-michael-durham-1551115.html; Hochschild, op. cit., p. 359.