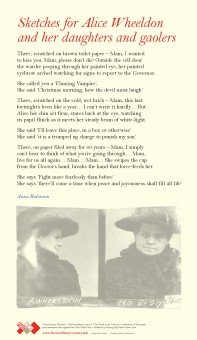 8 – 10:30pm, Friday 28 November 2014
The Poetry Cafe,  22 Betterton Street, Covent Garden, London WC2H PBP
From the Fourth Friday web-site:
One key aspect of the First World War receiving little or no attention in this year's commemorations is the history of the people and organisations that opposed it. We offer new insights on World War One and its objectors with poems and songs commissioned by Peace News and introduced by PN's Emily Johns. In addition, there'll be great anti-war songs and more from acclaimed singer songwriter Leon Rosselson. Jenny Lewis will be reading from her collection, Taking Mesopotamia, published this year by Carcanet and inspired by her search for her lost father—who led his troops across the desert by starlight in the ill-fated Mesopotamian campaign of World War One and died in the Second World War when Jenny was a few months old. Jenny Lewis trained as a painter at the Ruskin School of Art before reading English at St Edmund Hall, Oxford. She has published three collections of poetry as well as two pamphlets with the Iraqi poet Adnan Al-Sayegh. She teaches poetry at Oxford University. 'Taking Mesopotamia in one slim volume mines a rich seam from the Epic of Gilgamesh via Welsh mining communities and the First World War to the most recent Iraq wars.' (Poetry Society)
Items from the floor, especially on themes of peace and war, welcomed.