Press release
30 September 2014
Peace News [1]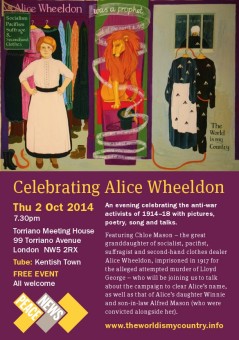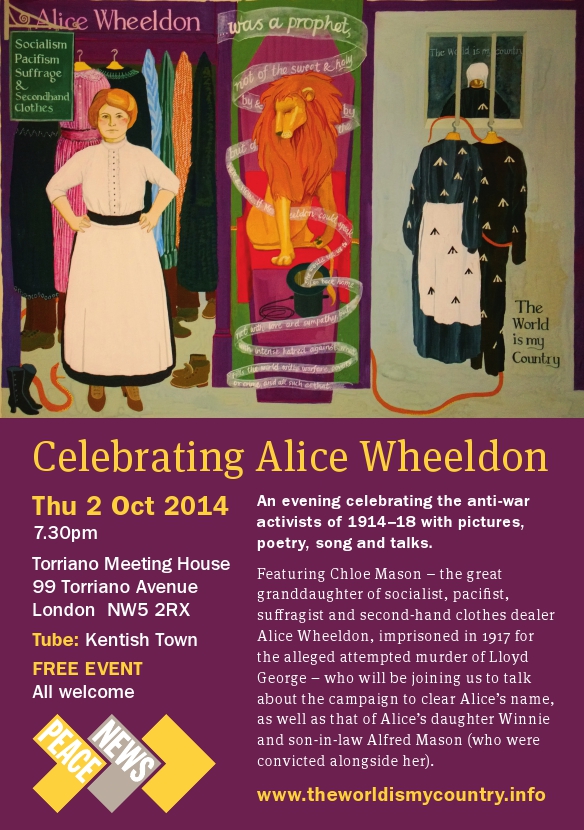 GREAT GRANDDAUGHTER OF FRAMED WW1 PEACE CAMPAIGNER VISITS UK TO SPEAK IN LONDON & DERBY
7.30pm, Thursday 2 October, Kentish Town: A great granddaughter of WW1 peace campaigner Alice Wheeldon, framed by government spies in 1916 for the attempted murder of Prime Minister Lloyd George, will be in the UK next month, speaking at events in London and Derby about the ongoing campaign [2] to clear her great grandmother's name, as well as those of Alice's daughter Winnie and son-in-law Alfred Mason, who were convicted alongside her.
Chloe Mason, visiting the UK from Australia, will be the special guest at an event in Kentish Town on 2 October, celebrating the anti-war movements of 1914 – 1918 [3]. She will also be speaking at an event in Derby on 11 October [4]. She will be available to interview in the UK on Monday 29 September and during October.
The case of Alice Wheeldon – a 52-year-old seller of second-hand clothes, living in Derby, who was accused by agents provocateurs of scheming to have a dart dipped with curare fired at the prime minister whilst he played golf at Walton Heath [5] – featured in Jeremy Paxman's recent BBC TV series Britain's Great War [6] as well as in Pat Barker's book 'The Eye in the Door' (under the name Roper).
Chloe Mason said: "The campaign to clear the names of Alice Wheeldon and our grandparents, Alf and Win Mason, takes on a new relevance as our countries prepare themselves to fight another foreign war. Alice Wheeldon stood up for what she believed in, defying the full resources of the Government being deployed against her. Her story illustrates how "In war, truth is the first casualty," first attributed to Greek writer/poet Aeschylus. So celebrating this woman who endured this miscarriage of justice, nearly one hundred years ago (1917), can alert people to the importance of scrutinising the words and deeds of our Governments and their 'intelligence' agents as they send our soldiers or fighter pilots off to war."
[1] www.peacenews.info
[2] http://www.alicewheeldon.org
[3] This free event – also featuring images, poetry and songs by Anna Robinson, Dan Kennedy, Krysia Mansfield, Alan Brownjohn, and Emily Johns – will take place at 7.30pm, Thursday 2 October at the Torriano Meeting House, 99 Torriano Avenue, London NW5 2RX (tube: Kentish Town).
[4] http://www.derbypeopleshistory.co.uk/?event=miscarriages-of-justice-a-walk-followed-by-talks-poetry-and-music
[5] http://theworldismycountry.info/posters/poster-3-alice-wheeldon-was-a-prophet/
[6] http://www.bbc.co.uk/programmes/b03vc2rw