An evening celebrating the anti-war activists of 1914-1918 with pictures, poetry, song and talks.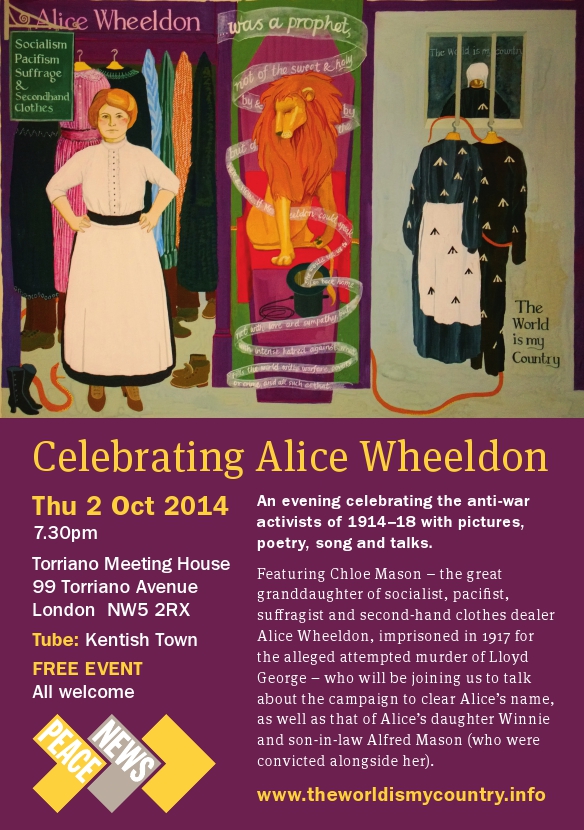 7.30 – 9.30pm, Thursday 2 October 2014
Torriano Meeting House, 99 Torriano Avenue, London NW5 2RX (tube: Kentish Town)
Chloe Mason – the great granddaughter of socialist, pacifist, suffragist and second-hand clothes dealer Alice Wheeldon, imprisoned in 1917 for the alleged attempted murder of Lloyd George – will also be joining us to talk about the campaign to clear Alice's name, as well as that of Alice's daughter Winnie and son-in-law Alfred Mason (who were convicted alongside her).
Plus Krysia Mansfield, Alan Brownjohn, Emily Johns, Anna Robinson and Dan Kennedy.

Free event. All welcome. Spread the word on Facebook here.
Part of 'The World is my Country' project: www.theworldismycountry.info
Background on Alice Wheeldon: http://theworldismycountry.info/posters/poster-3-alice-wheeldon-was-a-prophet/
Campaign to clear Alice's name: http://www.alicewheeldon.org/